Dual Language Immersion (DLI) Program
DUAL LANGUAGE IMMERSION PROGRAM
Canby School District provides Dual Language Immersion (DLI) education for students in grades K-12. K-6 students are served at our DLI Magnet School, Trost Elementary. 7-8 students are served at Baker Prairie Middle School. 9-12 students are served at Canby High School.
In DLI, we welcome all our students to the pathway to become bilingual, biliterate, and culturally competent community members. Our Value Statements
Build self-confidence and identity
Collaborate in a community of students, staff, and families
Foster curiosity and risk-taking in learning
Promote critical thinking and perseverance
Read, write, listen, and speak in Spanish and English
Respond to diversity with empathy and respect
Program Goals
Bilingualism - Develop high levels of proficiency in two languages
Biliteracy - Perform at or above grade level in academic areas in two languages
Multiculturalism - Demonstrate positive cross-cultural attitudes and behaviors
Eligibility
All students entering kindergarten are welcome, regardless of their home language
If there is a wait list, a lottery will be held for admittance into the program for kindergarten; the goal is to balance the number of English-speakers and Spanish-speakers in each class
After January of first grade, students may enter the DLI program if they show Spanish proficiency and there is space in the program
Program Model
K-6 80/20 DLI Program
Baker Prairie Middle School
Science & Humanities in Spanish
Language & Literature in Spanish and AP Spanish Language & Culture
K-6 Instructional Minutes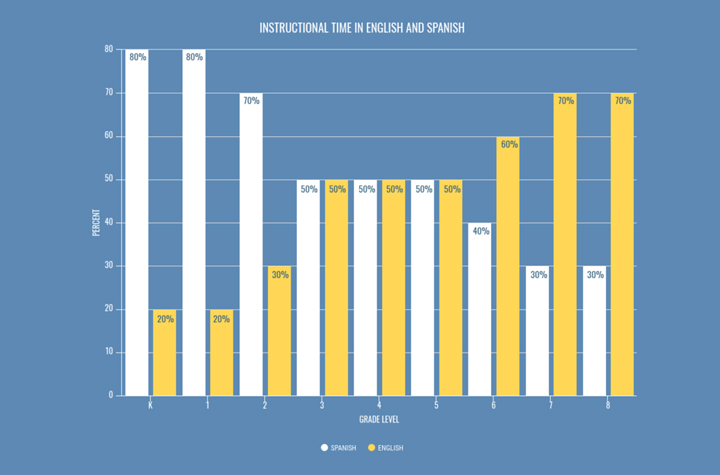 Frequently Asked Questions
Is the DLI Program right for my family? Commitment to DLI is important for your child to be successful. Learning in two languages is hard, but rewarding. This is a long-term commitment for you and your family.
Will my student learn English in this program? Yes! Research shows that all students, regardless of what language they speak at home, do as well or better in English than other students in monolingual programs. You may have to be patient. Learning a second language takes time.
How do I support my student if I do not speak English or Spanish? You do not have to be bilingual to support your students. Read with them every day in your native language. Talk with your children about what they are learning. Connect with other families in DLI and explore our community in order to expose your children to their second language outside of school.
Students can earn the Seal of Biliteracy when they graduate. The Seal is a national award, recognized by colleges and universities across the country. It also helps employers seek out bilingual employees who are proficient in reading, writing, speaking, and listening to Spanish. Students must meet regular graduation requirements in order to be eligible for the Seal.
Sorry, but there was nothing found. Please try different filters.